Deekshita S Vare – B.E (E & C)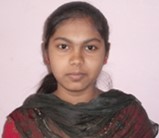 Dixita is a very bright student. She scored 94.24 % in 10th grade and 94.83 in 12th Science. Her father is a daily wage agriculture labourer and stays in a rented house. Deekshita has two siblings, who are also studying. Help a child supported Deekshita's pre- university education and Engineering in Electronics and Communication Now Deekshita is an independent woman. She is employed with Bosh Company as a software engineer in Bangalore. She now supports her family as well as further education of her younger brother.
A little help goes a long way.
Help a child to study further. Empower a community.